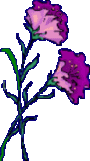 The Angel speaks on Death and Dying
Death is the great leveler, and comes to all.
None are immune. Not the powerful politician, nor the lowly beggar in India
with deliberately broken limbs (though he may welcome death more readily)
Neither colour, nor creed can guarantee even one extra day other than the allotted span
Death is where discrimination ends, For though the road to death is vastly different from
one to another. The actual end result is immutably the same.
Death is the final challenge, the final stage of growth, and now, like a butterfly,
having shed the chrysalis the human spirit soars free...



Back to Home